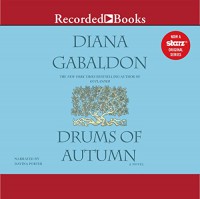 This review can also be found at
Carole's Random Life
.
This series. I just can't even say how much I am in love with this series. I first read this book years ago and my family nicknamed it "the brick" because it is quite a large book. I have been working on re-reading the first four books in the series before moving forward with books that I have yet to read. I am so glad that I decided to listen to this book because the narrator brings the story to life. I actually believe that I liked this book even more during this second read.
This story is epic. There is really so much going on in this book and all of it is completely entertaining. Jamie and Claire are in America working to find their place. The story also has a focus on Brianna, their daughter, and Roger. There are so many exciting things that happen in this book. There are pirates, bears, Indians, and even a dinner party surgery.
I am in love with the characters. Maybe a bit obsessed as well. I just love Jamie and Claire. Over the span of 4 books, I have grown to know them and really almost feel like they are real. I love how much they care about each other and how easy it is to feel their emotions throughout the book. I liked Brianna and Roger but not nearly as much. This is really the first book in the series that their role is so pivotal to the overall story. They are still working to figure out their relationship and they really go through a lot in this story. Some of it was very painful to watch.
The narration of the audiobook was phenomenal. Davina Porter is the voice of Claire and Jamie. She is able to differentiate between all of the characters wonderfully. I think one of her strengths is her ability to bring the characters' emotions into the story. This is an emotional book and I really felt everything along with the characters as I listened to the book. I was able to listen to this book for hours at a time largely because of the quality of the narration.
I would highly recommend this series to others. This is the fourth book in the series and this series really should be read in order. I can't wait to continue with this series. I am ready to move on to the fifth book, The Fiery Cross, which will be a new read for me and I can't wait.
Initial Thoughts
I am so in love with this series. Everything about it is just wonderful. The characters are so vivid that I sometimes have to remind myself that they are not real. I listened to this audiobook for hours at a time and liked it as much if not more than I did the first time I read it.